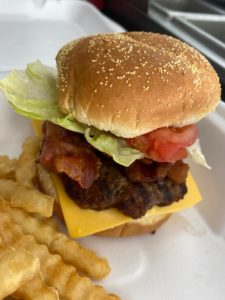 Why We Are Called "Iowa's Best Burger Café"
OK! The truth of the matter is: we have a pretty darn good, delicious burger here at The Café, but that is a really long slogan to put on signs and billboards, so we chose to simply go with Iowa's Best Burger Café. We must be on to something, too, because since opening our doors for business in 1987, our customers have bombarded us with enthusiastic comments such as "this is the best burger I have ever had" and "this is the best burger I have had in a long time." Some folks even tell us that they make a special point to plan their travel routes to include a stop for lunch or dinner with us!
We take our name, our menu, and our customers very seriously! Fast, friendly service is our top priority! All of our selections are prepared with the finest and freshest ingredients! The BBQ Beef is made right here on the premises, the tenderloins are real Iowa pork loin, and our homemade cole slaw is a huge fan favorite! Every generously-portioned order is prepared especially for you…at a price you will enjoy! And, be sure to top off your meal with a scoop or two of one of our 16 delicious ice cream flavors!
In a hurry? All of our menu items are available for carry-out, so be sure to get our business card menu to carry in your wallet!
There is only one Iowa's Best Burger Café……stop in today to enjoy a "pretty darn good, delicious burger"!
TO-GO Orders?
YEP!! Just call 641-526-8535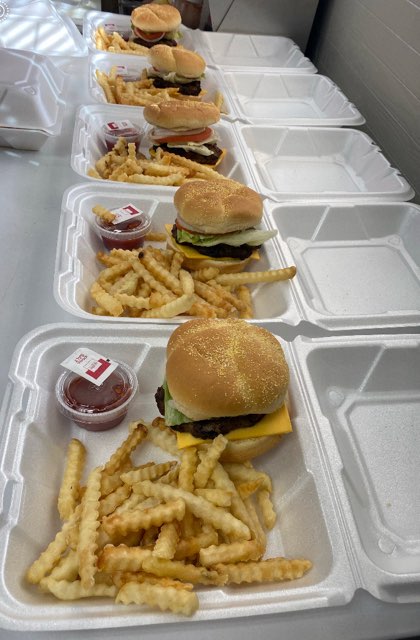 Our delicious flavors of ice cream include the hard to find flavors Black Walnut, Butter Brickle, Maple Nut, and Chocolate Peanut Butter Revel. Other flavors include Vanilla, Chocolate, Mint Chip, Birthday Cake, Chocolate Chip Cookie Dough, Praline Pecan, Cherry Nut, Rocky Road, Strawberry, Cookies 'N Cream, Chocolate Chip, Butter Pecan, and Rainbow Sherbert.
Enjoy a cone, malt, shake, or sundae with your meal. The restaurant is a short 2 minute walk from the campground. We offer call ahead carryout for your convenience.
Flavor of the Month: It's always worth a visit to discover!
Try some of our delicious ice cream flavors!