We try hard to be open all year for nightly camping but occasionally we close because of snow. Weekly camping is available from March through November subject to availability. Call ahead December through February to check on the weather. Our office is open every day from 8AM to 9PM. All sites are open March through November.
Just 1200 feet from our restaurant and convenience store you'll find our 38 pull-thru campsites. All the sites are easy to enter and exit and are conveniently located near the newly renovated showers and laundry houses. Whether you're looking for a shady spot to park your trailer or a wide open site to park your big rig we can accommodate you. View the campground map for all the details to help you select the site that best fits your requirements.
We have an F-5 rated tornado shelter for the peace of mind of our campers during those rare Iowa storms.
The rates posted do not apply to the following 2018 race dates; June 16 and 17, July 7 and 8, and July 27 and 28.
2018 Camping Rates
(All rates subject to change)
All dates except race weekends:
All sites are $30.00 ($27.00 Good Sams)
Make a Reservation
To make a reservation for today or for weekly camping  please call 641-526-8535.  For race weekend camping please call.
To make a reservation for any other day in 2018 except the race weekends you can either call 641-526-8535 or email us at exit173rv@gmail.com.  If you choose to email us please include your name, the date you want to camp, the size of your camper, the area you want to camp in( 1-10, 16-23 or 24-38) and your phone #. We will respond asap.
Example: John Doe, August 21st, site 24-38, 35′ with tow, 999-999-9999
RV Park Map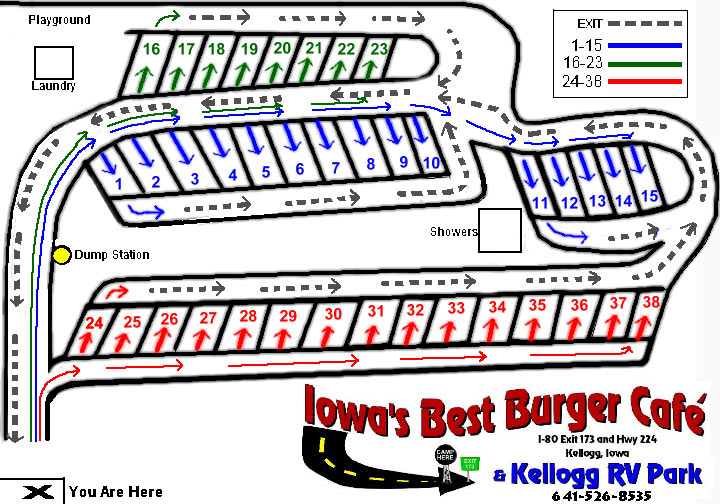 Site Information
Sites #1 thru #15 are strong 20/30 amp electric with water hook-up from a municipal supply. These sites are 18' wide and 65'-85' long. The sites are staggered so you will not get the feeling you are cramped in and each site has a view. Most sites are shaded. All of these sites are close to the shower and laundry. Sites 11-15 have sewer hook-up.  Local TV reception is very good but satellite reception is difficult because of the trees. Sites 1-10 are restricted to vans, popups, toppers, and other campers or trailers 25′ long or less.  Wi-fi is accessible at any booth in the restaurant.
See blue sites #1-#15 on map.
Sites #16-#23 are 20/30/50 amp electric with sewer & water hook-up from a municipal supply. These sites are 26' wide by 75' long. The sites are staggered so you will not feel cramped. These sites are near the shower and laundry and are shaded. Picnic tables are at each site.  We get many big-rigs using these sites but satellite reception is not likely and you may brush a few low hanging branches as you enter the site. We recommend sites #24-#38 for the most discriminating big-rigs. Wi-fi is accessible at any booth in the restaurant.
See green sites #16-#23 on map.
Sites #24-#38 are 20/30/50 amp electric with sewer connections and water hook-up from a municipal supply. These sites were all new in 2007. Sites are specifically designed for the largest rigs with solid gravel, 33' width, 85' length, superior electric capacity, and easy in and out. Sites offer excellent satellite reception and no trees.
See red sites #24-#38 on map.
Tent Camping
All tents will use any of the above sites at the specified rate,  please park on the gravel and put your tent on the grass beside your vehicle.
Contact us at exit173rv@gmail.com with questions about weekly and monthly camping.
We check our email daily so we will get back to you as quickly as possible.
Camping Policies and Rules
Camping fee will not be charged to your credit card when you make a reservation. The card # is to reserve the site.  The card will be charged if you do not cancel within 24 hours of your reservation date.  Please request an e-mail confirmation at time of cancellation or email your cancellation request to exit173rv@gmail.com
Please stop at office BEFORE you go to a site. All camping must be paid in advance.
No more than 2 vehicles per site.
Check out time is 12:00 noon. Check in is 1:00pm.
Pet restrictions apply to  any dog whose aggressive appearance interferes with the pleasure of other campers. All pets must be on a leash.
Quiet time is 10:00 PM until 8:00 AM
Limit of 4 adults per camper or site. An additional fee may apply for larger groups.
No fires except in fire rings. Do not move fire rings.
You are NOT allowed to bring your own firewood.
(Wood can be purchased on-site for $5/bundle, please tell the clerk how many
bundles you would like and it will be delivered to your campsite.)
No carpets or anything else on the grass that will damage the grass.
No driving on grass. If you want to move to a different site for any reason. PLEASE RETURN TO THE LARGE PARKING LOT BY THE OFFICE AND START OVER.